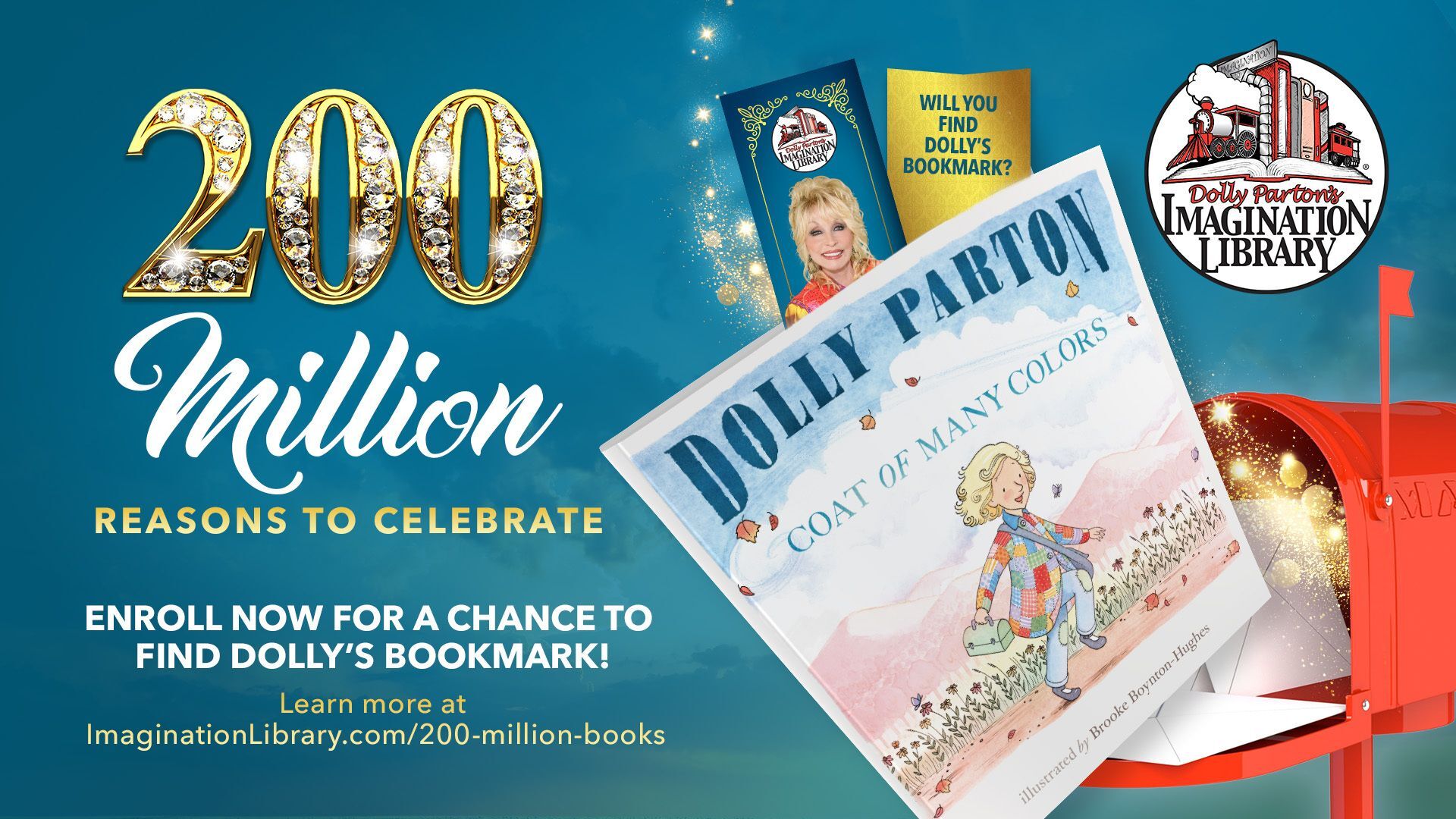 Dolly Parton's Imagination Library is turning over a new chapter in The Imagination Library legacy - celebrating 200 million books gifted globally since inception in 1995. To celebrate this global 200 million book milestone, seven enchanting Dolly bookmarks will be randomly hidden inside Imagination Library books gifted during International Literacy Month (September) to children/families currently enrolled in the program. (Children must be enrolled by July 31, 2023 to receive Imagination Library books in September).
Seven random children/families in five countries who find the Dolly bookmarks in their Imagination Library books will receive, if they choose, a video chat with Dolly, a personalized signed letter from Dolly, an autographed photo from Dolly, and four Dollywood Theme Park tickets. The Dollywood Foundation will also donate $2,000 on behalf of the child to their Local Imagination Library Partner in their community as a thank you to who Dolly calls the true heroes of her program.
Dolly Parton's Imagination Library helps boost your children's education by providing free children's books. By reading regularly with your children during their preschool years, you can give them a tremendous boost toward a successful education.
Dolly Parton's Imagination Library will provide age-appropriate books for you to read with your child. There are many reasons parents do not read to their child, but we can eliminate one of them. Every child will receive books of their own, at no cost, thanks to United Way of Cumberland County, Partnership for Children of Cumberland County, and Dolly Parton's Imagination Library.
Each month a new, carefully selected book will be mailed in your child's name directly to your home. They can look forward to new and exciting reading adventures from Dolly Parton's Imagination Library each month.
Please use the following registration form only if your child resides in Cumberland County.  
*The children of Cumberland County, North Carolina are able to receive free books each month due to generous individual donors and grants from organizations like Association of Bragg Spouses, Bragg N' Barn Thrift Shop, Florence Rogers Charitable Trust, Junior League of Fayetteville, and the Youth Growth Stock Trust.
---