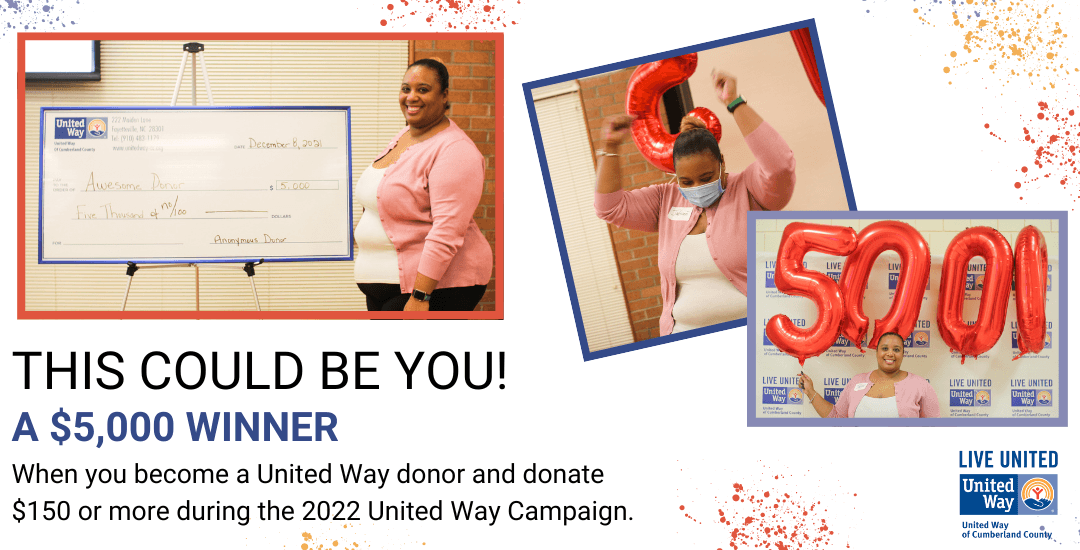 $5,000 Giveaway Rules & Regulations
THE GRAND PRIZE
Thanks to an anonymous donor, one lucky United Way of Cumberland County donor will win a cash prize of $5,000, plus an additional $1,000 to designate to the UWCC Community Impact Partner program of their choice.
WHO IS ELIGIBLE AND HOW TO ENTER
Any donor who is 18 years of age or older and makes a total contribution of $150 or more, either through payroll deduction or by donating a one-time gift for the 2022 Campaign. Contributions must be either through the company's campaign or a donor can go to unitedway-cc.org to make their $150 or more contribution. This drawing is limited to one entry per person. United Way has the right to determine the validity of the entries.
HOW THE DRAWING WORKS
Each Friday, from October 10, 2022, through November 28, 2022, three finalist names will be drawn from the eligible donors pledges received that week, giving a  a total of 24 finalists. These names will be announced weekly on WKML and social media. Each of the finalists will be notified by email that they have qualified for the final drawing and will be invited to join our "Holiday Social" on December 2022, where the winner of $5,000 will be determined by a reverse drawing. All finalists must be present at the "Holiday Social" to be eligible to win the prize and have been in contact with our office. 
THE $5000 GIVEAWAY
The final drawing will be held on December 2022. Each finalist must attend the event and will be allowed to invite a guest to attend with them. Each finalist will line up and a reverse drawing will be held to announce the winner. All finalist must stay until the end of the drawing. 
REQUIREMENTS
The winner is responsible for all applicable taxes related to the transaction. By participating, each finalist grants United Way of Cumberland County the use of their name and photograph in all communication and publicity materials.
---