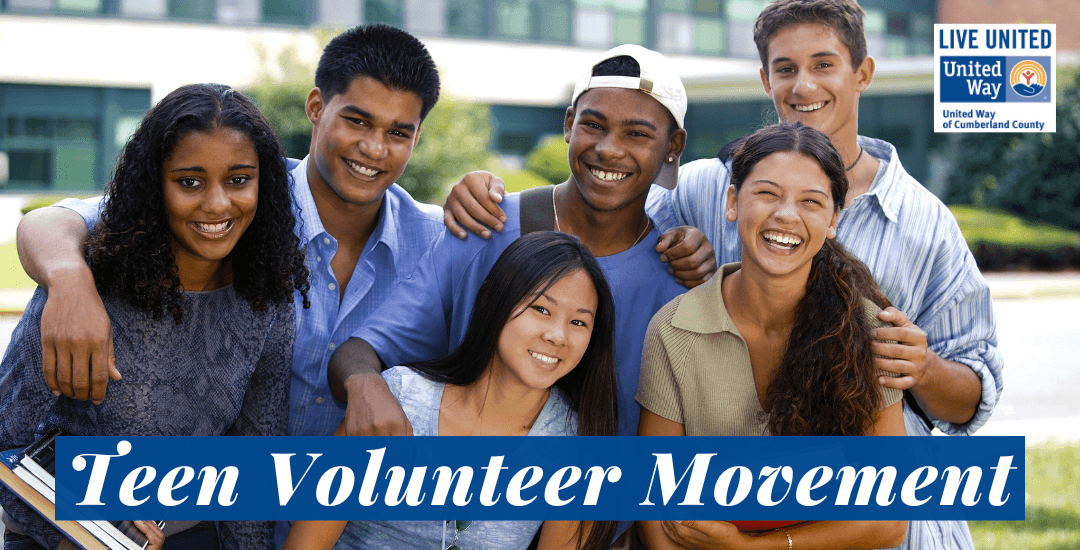 Inspiring Change Makers
At United Way of Cumberland County, we believe that you're never too young to change the world. Youth are our future leaders, and with all the wonderful work going on in our community, we hope to see our young people get involved and find their passion.  
United Way of Cumberland County works in partnership with dozens of local nonprofits to raise funds and support important missions. Missions that mean warm meals, safe homes, and important medications. We are pleased to help connect you with some of the projects going on within our community.
"The best way to find yourself is to lose yourself in the service of others." -Mahatma Gandhi
---
Note: all volunteer opportunities are for ages 13 and up. If your child is 11 or 12 scroll to the bottom to see the 3 volunteer locations available for them.  
UNITED WAY OF CUMBERLAND COUNTY
RAPPEL FOR OVER THE EDGE EVENT: April 12-13, 2024
Over the Edge is a day-long event where Rappelers descend 50 feet down the Cape Fear Valley Medical Arts Center in Downtown Fayetteville (101 Robeson Street) and help UWCC raise funds to improve the quality of lives in Cumberland County by addressing critical human needs. The event is open to all ages. Participants under the age of 18 must be accompanied by a legal guardian, and all participants must be within the 100 to 300 pound required weight range (as per Over the Edge safety standards). 
Duties Include: Raising a minimum of $1,000 to rappel on April 13th, 2024. CLICK HERE to learn more or register to rappel. 
ASSISTANCE WITH THE OVER THE EDGE EVENT: April 12-13, 2024
Volunteers are needed during this event from 7:00 am to 12:30 pm or 12 pm to 5:30 pm. Volunteers will help with registration, staging, landing zone, roof top security, roof top radio, lading zone announcer, floater and rope volunteers.   
Duties Include: Check people in and assist with other duties, as needed. To volunteer contact Roshelle at 910-483-1179 ext. 228 or development@unitedway-cc.org
ASSISTANCE WITH THE CAMPAIGN KICK-OFF: THIS EVENT HAS PASSED UNTIL August 2024
The annual Campaign Kickoff/Meal Packing Event brings over 500 volunteers together to pack up to 70,000 meal packets to help feed families & individuals need in Cumberland County. 
Duties Include:  Setting up the day before the event, assist people with packing meals for those is need, move boxes and handout additional packing items. To volunteer contact Roshelle at 910-483-1179 ext. 228 or development@unitedway-cc.org
CATHOLIC CHARITIES FAYETTEVILLE REGION
It is our mission to provide help to our brothers and sisters in need by alleviating the effects of poverty and creating hope by developing solutions to transform lives.
FOOD PANTRY VOLUNTEER DAY: Year-Round on weekends 
If you're looking to coordinate a group volunteer effort, think about hosting a 2-hour Volunteer Day focused on teenagers participating in tasks related to restocking and organizing the food pantry. It's important to ensure that teen volunteers are supervised throughout this project.
Duties included: Stocking and organizing the food pantry. To volunteer contact Vicky at 910-424-2020 ext. 2601 or Vicky.Jimenez@ccharitiesdor.org
FAYETTEVILLE SYMPHONY ORCHESTRA
It is important for us to engage with youth in our community, and provide them opportunities to learn, gain volunteer experience, and build relationships with our other volunteers, staff, and patrons. We welcome youth volunteers with open arms and want to be a resource for our youth volunteers. We can be flexible in terms of scheduling, too.
CONCERT AND EVENT ASSISTANCE: Year-Round
Duties Include: usher, ticket taker, box office, greeter, etc. To volunteer contact Meghan Woolbright at mwoolbright@fayettevillesymphony.org or 910-433-4690
CONNECTIONS OF CUMBERLAND COUNTY
Volunteers are at the heart of what we do here at Connections of Cumberland County. We're always looking for supportive and hardworking community members to lend a hand through several agency programs and services.
TEEN VOLUNTEER DAY: Year-Round on Saturday's   
If you're interested in organizing a group volunteer initiative, consider hosting a 2-hour Volunteer Day on a Saturday, where teenagers can participate in activities related to organizing and cleaning up. Please note that teen volunteers must be under supervision during this project.
Duties Include: Cleaning and organizing rooms, creating hygiene kits or cleaning up outside in the yard. To volunteer contact SJ Schwartz at sarahjordan@connectionsofcc.org or 910-630-0106
VISION RESOURCE CENTER
We welcome new volunteers who can help us from assistance with general Center activities, sharing their gifts and experience through special programs, presentations or grant writing.
RADIO READING CLUB:  Year-Round on Friday's 
Vision Resource Center's VRC-VLY Reading Service program provides global, national, and local news and entertainment to the blind and print impaired using internet radio. Vision Resource Center's VRC-VLY Reading Service program is relaunching to provide global, national, and local news and entertainment to the blind and print impaired using internet radio.
Duties Include: Read articles on the air. No training needed. To volunteer contact Terri Thomas at 910-483-2719 or vrcexdirector@gmail.com.
FAYETTEVILLE URBAN MINISTRIES
We strive to help students show God's compassion for our neighbors in need, and thus build our community together. The Emergency Assistance program houses a food pantry, clothing closet, and a financial assistance service which helps families and individuals in crisis.
FOOD PANTRY, CLOTHING CLOSET AND CUSTODIAN:  Year-Round Monday -Thursday 9am-5pm Friday 9am-4pm: first Saturday of each month 10am-1pm
Working in the food pantry, clothing closet or assist with cleaning up. To volunteer contact Haley Wood-Greene at hwood@fayurbmin.org or 910-483-5944 ext. 2207
FUNDRASING STAFF:  Year-Round Opportunity
Volunteer or intern to come up with creative fundraising ideas and to assist with fundraising events throughout the year. You will participate in fundraising events by contacting potential donors and setting up for events. To volunteer contact Mikayla Borrero at mborrero@fayurbmin.org or 910-483-5944 ext. 2211
CAREER READINESS PROGRAM:  Year-Round Opportunity AGES 14 TO 18
If a student is defined as at-risk, Fayetteville Urban Ministries can employ students at an hourly rate. Career Readiness candidate contact: Brian Jones at bjones@fayurbmin.org or 910-483-5944
GREATER LIFE OF FAYETTEVILLE
Students can become a Friend that educates and inspires at-risk and behaviorally challenged youth with innovative and culturally sensitive programs in order that they may thrive academically, socially, and morally. Come help young students grow both in and out of the classroom.
MENTORING FRIEND: Monday - Thursday 3:00pm - 6:00pm during the school year
Contact: Georgeanna at greaterlife.fayetteville@gmail.com or 910-364-9531
CAPE FEAR BOTANICAL GARDEN
Volunteers are the heart and soul of the Garden. We offer fun and challenging volunteer opportunities available year-round, indoors or outdoors. Youth volunteers are the key to connecting younger generations with gardening and conservation measures.
STAFFING FOR HORTICULTURE WORK AND PUBLIC EVENTS: Monday - Friday 8:30am-5:00pm
Contact: Chris Walker at cwalker@capefearbg.org or Mallory McAden at mschroer@capefearbg.org or 910-486-0221
BOO-TANICAL MONSTER BASH: Event is October 26th-October 29th. (Register to Volunteer before October 20th)
We are seeking volunteers for our upcoming large Halloween Event, BOO-Tanical which is a Monster Bash dance party and would like to invite teens in our community to sign up to volunteer. CLICK HERE to sign-up on the registration form. 
THE SALVATION ARMY
Students can help The Salvation Army create change and provide hope throughout your community.
FOOD SERVICES ASSISTANCE:  Year-Round Monday through Friday 4-6pm  
Duties Include: Making dinner meal plates, passing out of dinner plates. To volunteer contact 910-323-9769 ext. 66490
COMMUNITIES IN SCHOOLS OF NORTH CAROLINA
It is our mission to surround students with a community of support, empowering them to stay in school and achieve in life. We work with students, families, schools and the community to clear the path for all students to reach their full potential.
CONCESSION STAND, TABLING, & REGISTRATION VOLUNTEER FOR BASKETBALL TOURNAMENT: Year-Round
Duties Include: Assisting as needed during the basketball tournaments. To volunteer contact Tristyn Card at 919-614-6620
FAYETTEVILLE TECHNICAL COMMUNITY COLLEGE FOUNDATION
with FTCC gives students the chance to make a difference in their community in a safe environment and also spend time on the college campus where they may one day attend. 
ASSISTANCE WITH THE TROJAN FIT 5K COLOR RUN: October 12, 2024
The FTCC Trojan Fit 5K Color Run / Walk will be a fun event for all. The minimum age for volunteers to sign up online is 16-year-old. However, we welcome volunteers 12-15 years old who are accompanied by an adult or group leader. For the Color Run, there will be an orientation before the event.
Duties Include: Help set up and clean up for the color run. Please contact FTCC Foundation at 910-678-8441 or email Sandy Ammons at ammonss@faytechcc.edu to become a volunteer. 
CUMBERLAND COUNTY ANIMAL CONTROL
The Animal Services Department has a volunteer program and encourages anyone interested in caring for our animals. 
PET CARE VOLUNTEER: Year-Round 
Volunteers will work in the adoption area of the shelter performing various task. If you want to volunteer, you must follow three steps: 1. Watch the volunteer orientation. 2. Read the volunteer manual. 3. Attend a walkthrough session. CLICK HERE to begin the volunteer process. If you have any questions, call 910-438-4050 or email aorgan@cumberlandcountync.gov 
NOTE: YOUTH 11 -12 YEARS OLD CAN ONLY VOLUNTEER AT THE NON-PROFITS LISTED BELOW. THEY ALSO NEED TO BE ACCOMPANIED BY AN ADULT TO VOLUNTEER.
Fayetteville Urban Ministries
Fayetteville Symphony Orchestra
Fayetteville Technical Community College Foundation
Cumberland County Animal Control