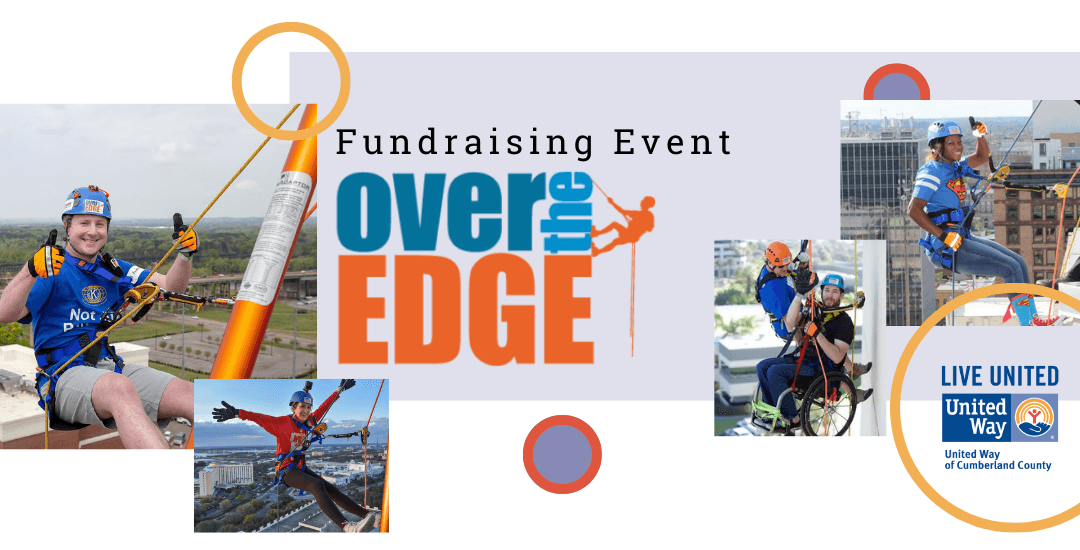 ARE YOU READY TO STEP OVER THE EDGE FOR OUR COMMUNITY?
Registration Fee: $75 - Use the code EARLYBIRD25 to get $25 off your registration fee. - Code expires on March 3rd. 
Join us on March 11th, 2023
How would you like to rappel down the side of a building?
Fundraising can sometimes be a tall task, but United Way of Cumberland County is taking fundraising to new heights with Over the Edge - an innovative fundraising event. Join us on March 11, 2023, for a chance to #RappelforUWCC, descend the 50 feet down the Cape Fear Valley Medical Arts Center in Downtown Fayetteville (101 Robeson Street) and help UWCC raise $140,000 to improve the quality of lives in Cumberland County by addressing critical human needs. Register as an individual or as a team and raise a minimum of $1,000 to go Over the Edge; just think of it as 40 donations of $25 or combinations of other small amounts. 
Over the Edge is a day-long event, which runs from 9:00 am – 4:00 pm. Family, friends and spectators are invited to come down and support participants and enjoy a game of corn hole, vendor tents, etc.
If you don't want to rappel yourself, how about sending your BOSS?
If you have a manager that's pushed you over the edge, now is the perfect time to return the compliment! Form a #UWCCTossYourBoss team to enjoy some fun workplace camaraderie while raising money for a great cause. Just follow these easy steps:
Get your boss to agree to rappel or go into the chicken coop and raise matching funds to not have to rappel.

Organize your co-workers to get everyone on board to raise $2,500 to send your boss Over the Edge.

Click below and create your own team when you register. 

Begin sharing your registration link with family and friends. 

Visit the Cape Fear Valley Medical Arts Center on March 11th and cheer as your boss goes Over the Edge!
Companies and organizations that participate in Toss Your Boss will receive sponsorship recognition at the event and in pre-event communications once they raise $2,500.
Logo placement on the UWCC website for Over the Edge advertising

Logo placement and shout-out in one issue of our email newsletter sent to rappelers
The event is open to all ages. Participants under the age of 18 must be accompanied by a legal guardian, and all participants must be within the 100 to 300 pound required weight range (as per Over the Edge safety standards). If you have any questions about special accommodations for participants with special needs, severe health complications or allergies, and more, please reach out to Melissa Reid at melissareid@unitedway-cc.org.
Over the Edge is a special events company that provides signature events for non-profit organizations across Canada and the United States. Over The Edge and their team of Certified Rope Access Technicians have helped raise over $100 Million with non-profit partners, hosted over 1000 rappelling events, and maintained a spotless safety record through their 10 years of operation.
---
Become a Sponsor: Limited Opportunities 
United Way of Cumberland County has been making an impact in our community for over 80 years, but we can't do it without business partnerships like yours. When you sponsor United Way's Over the Edge Fundraiser you will help impact over 412,866 local individuals & families, including over 21,112 military individuals & families through locally funded programs, services and initiatives provided assistance. Sponsoring United Way is the perfect way for your business to demonstrate corporate social responsibility while gaining valuable visibility in front of community leaders and key demographics.  
What sponsoring United Way means for you:
Increase your brand's visibility through positive media impressions. 
Reinforce your company's reputation as a good corporate citizen. 
Support the leading non-profit with the greatest local impact. 
Feel good knowing you're not only getting value but giving value. 
---
Volunteers Needed: Limited Spots Available
United Way is raising funds by partnering with Over the Edge to give people the chance to rappel down the Medical Arts Building (101 Robeson Street) on March 11, 2023! Participants will be raising, on average, $1,000 per person for this exclusive opportunity to rappel. Volunteers are needed during this event from 7:00 am to 12:30 pm or 12 pm to 5:30 pm. Volunteers will help with registration, staging, landing zone, roof top security, roof top radio, lading zone announcer, floater and rope volunteers.   
---
2023 Over the Edge Sponsors