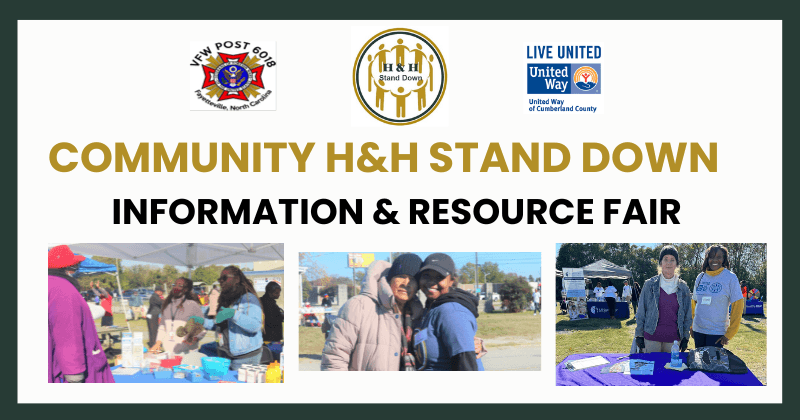 Friday, November 17, 2023 from 9:00 am until 1:00 pm
Event Location: V.F.W. Post #6018 at 116 Chance Street, Fayetteville, NC
This event offers a one-stop location for individuals and families at-risk of being homeless, access to services that meet their basic needs. Services provided will include employment assistance, health services, veteran services, housing and much more! It is the mission of the planning committee to provide an opportunity to transform lives! 
What's Provided During the Event:
Flu Shots
COVID 19 Vaccinations & Testing
Dental Screenings
Personal Hygiene Kits
Education & Employment Resources
Veteran Assistance Resources
Housing Assistance Resources
Blankets, Raincoats, Outdoor Wear
Non-Perishable Food Bags
A HOT MEAL WILL BE PROVIDED
How Can You Help?
Donations Needed
Please provide support through either monetary or non-monetary donations. You can deliver, drop-off or check out the Amazon Wishlist to donated items needed to give to the homeless during this event. 
Item's needed: Toboggans, Gloves, Blankets, Scarves, Backpacks, Umbrellas, Raincoats, New Socks, New Underwear, New T-Shirts, Packaged Hygiene items for men & women.  
CLICK HERE to view the wish list and donate a few items we need above. 
Volunteers Needed
During this event public/private agencies, volunteers and sponsors dedicate their time and services to address the issues faced by those in need living in our community. What can you do? You can host a vendor table, or you can assist the Stand Down team the day of the event. 
To participate as a service provider or volunteer please fill out the corresponding form below. 
Need addition information or have questions, contact: Crystal Moore-Williams, Coordinator at 910-483-1179 ext. 229 or crystalmmccnair@unitedway-cc.org.  
---
---
Images of the Community Stand Down over the years
View the Community Stand Down over the years